What does custom itinerary in Singapore look like to you?
As a private tour company, we strive to tailor our offering to your preferences and taste. We primarily focus on walking tours around Singapore, but we can help you plan your itinerary to the tee if you like to know where you are going at any time, or let us take over if you are feeling adventurous and bring you to the sights and sounds that we ourselves enjoy. As avid travelers, we have been in situations where we had the luxury to plan month ahead for a longer vacation, and also where we just booked a flight ticket without hotel / hostel booking a day prior. As they say, it really depends on how comfortable you are, acting with incomplete information and the unknown.
A 3 day custom itinerary in Singapore for someone who is a history buff might look like this: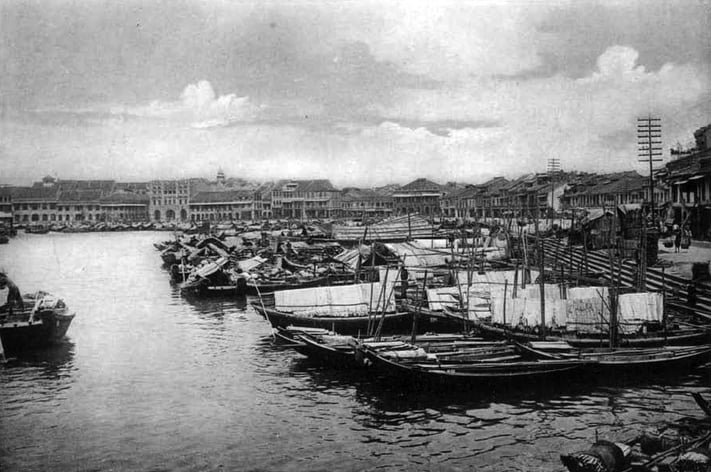 Day 1:
- Visit Singapore River, go to the place where Sir Stamford Raffles landed in Singapore for the first time. Picture the old tongkangs and river boats that used to ply the quays in the old days above.
- Take a peek into Fullerton Hotel right by Boat Quay. You can then continue to dine in one of the establishments of Clarke Quay restaurants.
Day 2:
- Visit Fort Canning Park, the site where Lieutenant-General Arthur Ernest Percival established his command post of the Malayan Command.
- National Gallery Singapore, a S$532 million project that opened in 2015 to much fan fare. What used to be former City Hall and Supreme Court building is now two buildings joined by walking bridges and platforms.
- History buff needs to eat too, so the refurbished historical Lau Pa Sat would be a great choice for hawker centre experience.
Day 3:
- Historical walk in Katong neighborhood in East Singapore. Visit the colorful residential buildings of Koon Seng Road, take some awesome pictures, and
- Dive right in to lunch at Joo Heng Restaurant, the wonderful Teochew style restaurant along Joo Chiat Road
Itinerary will look different for each and every one of our customers. If you are the history buff above who already knows the places you want to go, we advise you on how to maximize your time here and plan the visits accordingly, allowing for resting time.
If you just love to shop, we offer an infographic on shopping in Singapore and we'll bring you to the shops we think you might like.
If you are a family who likes a combination of sightseeing, shopping, nature, that's excellent! Let us know how long you will be in Singapore and we will make it work.
So, what does your custom itinerary in Singapore look like? Download template below or find out by sending me an email here or book my calendar for a quick chat.